Activities Do Wonders for Cognitive Rehabilitation – Recreation Leader Christina Gissi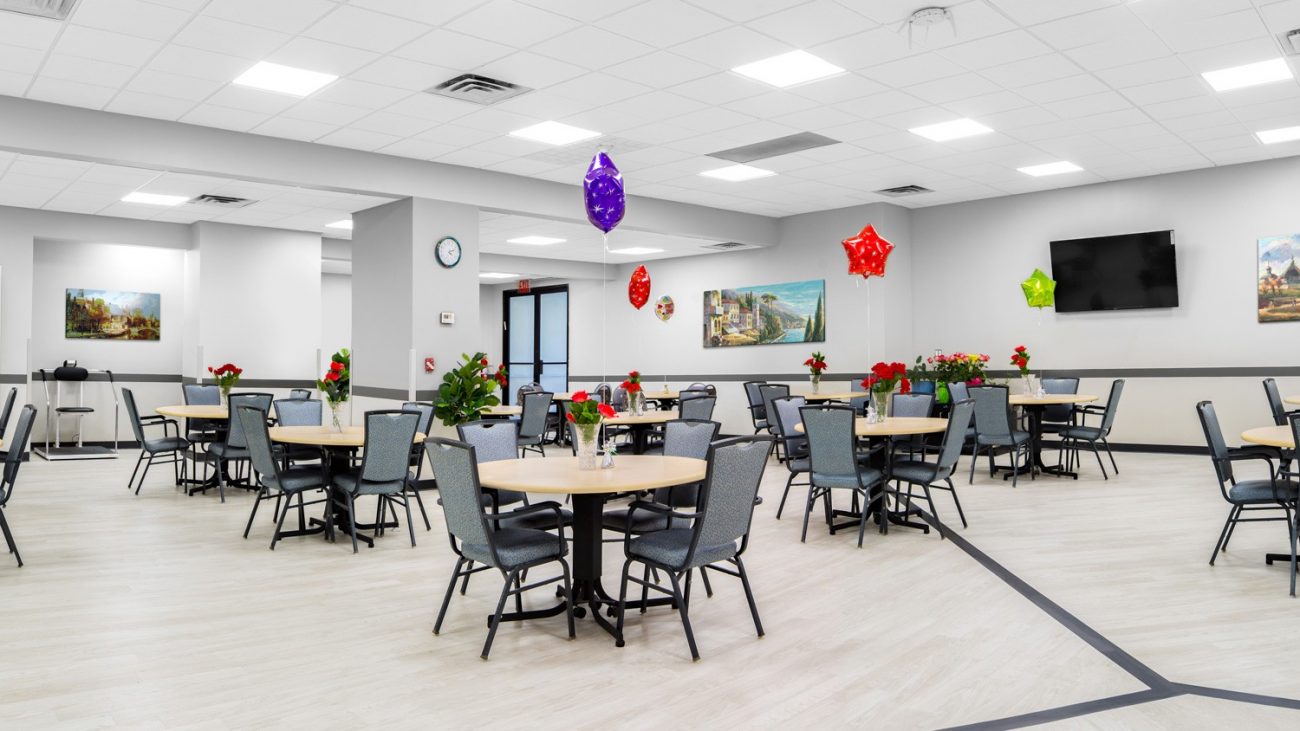 Traumatic brain injury (TBI) causes several issues for people in terms of their ability to communicate and stay active. This may result in people feeling isolated and lonely. So, It is important for them to be engaged in therapeutic recreation activities to stimulate the brain and make them happy. This is crucial for cognitive rehabilitation. Fairview ADC offers numerous recreation activities for people like this.
We met Christina to find out what activities are going on at the center for these people.
Could you tell us a bit about your work?
We do a lot of art and music therapy with our clients to stimulate cognitive skills. These are part of our cognitive rehabilitation program. The facility has recently been remodelled, and a lot of our art work brought in.
Which of the activities helps them most of all?
Activities that help them to bond with each other and form friendships. They make a lot of friends here. Their social life is quite different now to what it was before their brain injury.
They have lost many of their friends. Coming here gets them out of the house. They can play games and socialize. So, they really benefit from coming here. They are like a family. Remember, they weren't born with a brain injury. Their life was  normal before this life-changing injury. Socializing with each other gives them a very nice feeling.
Some of them are pretty young. They are from a range of different ages. They now enjoy seeing and greeting each other, playing games.
Here they become a family, learning to socialize again. It is nice to see how they very often complement each other.
How long do they usually come here for?
It ranges from two to five years. I think for them it feels like a home away from home, somewhere
safe. They realize it is good for them to come here. It is something to look forward to. It is no fun staying at home all day. Here they are mixing with other people and doing things to stimulate their minds.
We teach the clients songs and poetry, and they participate in talent and fashion shows. They are  encouraged to do creative writing too. They submit small items to a monthly newsletter. We have two levels of students writing about online topics. They choose what they want to write about, things like how grateful they are for smells or music.
We play cognitive therapy games with them such as trivia, jeopardy and hangman. We also organize themed days. Next week we have a special event, a sports-themed day. They can wear outfits bearing their favorite team's logos. We like to dance with them accompanied by DJ music. They choose what they want to do. We try to make sure they have an active day. We work with the Museum of Modern Art. Pictures featured in the museum are brought in once a month. These are discussed with the clients. A week later the museum employee returns to help them drawing and painting landscapes for example. I work with about 10 clients who enjoy art and like painting by numbers. Some of them make clocks, jewelry boxes, cars and trains out of wood. They paint them and can take them home.
I run discussion groups on different topics for those who are unable to write. This is part of the social skills and cognitive rehabilitation programs. I take topics or quotes from the Internet or a quotation book, and we talk about them. They can pick subjects from topic cards. They like any type of getting-to-know-you groups. The cognitive skills' groups range from levels one to three. Three is the highest, two the mid-level and one is the lowest. They start at 10.30 with cognitive training. The latter revives skills that they used to know, but need to be reminded of. It includes classes in money management. We teach them how to do mathematics or write checks. Playing trivia also stimulates cognitive skills. At 11.30 we have social skills with our occupational therapist.  Their day ends at 3.30.
We go out a lot. Sometimes we have barbecues and outdoor activities on the veranda, weather permitting. Also, we have a community group. We take them to the local library and go shopping every week.
What do they like most of all?
They love trivia. Interestingly, hangman is their favorite game. They like bingo too because they win prizes. Generally, they enjoy any game that stimulates their minds. 
Do you think they are positive in spite of their condition?
Sometimes they have bad days like everyone. In the main, they are positive. I have hardly ever met anyone who feels really down about their brain injury. We watch and record their development. I want them to enjoy coming here and leave with a smile. If I can make them smile, I feel like I've succeeded. I have worked here for 16 years and find It very rewarding working with them.