Fairview Physical Therapist: "Choosing the Right Words is Very Important"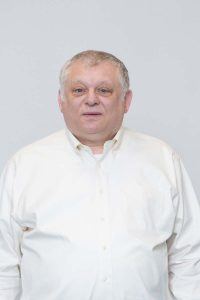 Anatoliy Starosta
Physical Therapist
Graduated from the College of Staten Island
Specializes in maintenance therapies, physical therapy for geriatric and TBI groups, neurological and orthopedic rehabilitation
It is important to choose the right words when talking to the clients, the words that would encourage them to do their best to improve their health
I am a physical therapist at Fairview Adult Day Care Center in Brooklyn. We have lots of wonderful people here. We all know that physical therapy can do wonders for the elderly. Mobility is very important for everyone. Many of those who come here also understand this and enjoy doing exercises. But what I would like to point out is that the attitude, the way we talk to people and choosing the right words to explain things to them, is very important.
The elderly and people with TBI (traumatic brain injury) may quite often feel lonely and frail. So, it is our duty and commitment to make them feel optimistic. We had a woman here who had some health issues. She was depressed in the beginning. But I noticed that she was changing for the better day by day, gaining in optimism and an enhanced attitude to life. Unfortunately, she later said that she had contacted her physician, and he or she had told her that ͞nothing would really help her much͟. After that, she suddenly changed and stopped doing exercises. I talked to her. She did not want to walk or to move. I told her that she would be better and better. She started believing in the therapies again. We restored her optimistic attitude.
Our staff at Fairview ADC do their best to keep people happy. It is our main job. I think everyone at this place is well aware how to speak to people and what words to choose when addressing our clients. We treat them as if they are members of our own family or like our parents. We can feel for them. This is so important for their health.
A variety of people come here, and one thing I often notice is how much and how soon our clients'moods change for the better. We love seeing the smile on their faces, the improvements and their behavioral changes.